miPASS Strata
Offline Access Management Made Easy. MiPASS Strata.
Whether for matters of cost or convenience, eliminating cables can unleash a world of access control possibilities.
Now you can take control of access management even where there is no data cable connection or panel! BQT's miPASS Strata software and hardware allows user access rights to be managed remotely and then downloaded to miPASS Strata Smart Readers via a transfer card. It is the perfect standalone solution for access control needs where there is a need for secure doors or gates but it is not feasible to run communication cables to an access control panel.
What are the Benefits of miPASS Strata?
Standalone system

Uncabled solution

No access control panel required

Unlimited readers

Up to 500 users

Modify users via software

CSV import to software

Update readers in 5 seconds

Multi-site configuration

Transfer user information via transfer card
miPass Strata Products:
miPass Strata Administration Pack
miPass Strata Transfer Encoder
miPass Strata Transfer Card
miPass Strata MSBT817-2 Pack
miPass Strata MSBM682 Pack
miPass Strata MSBT815-2 Pack
miPass Strata MSBT817-2
miPass Strata MSBM682
miPass Strata MSBT815-2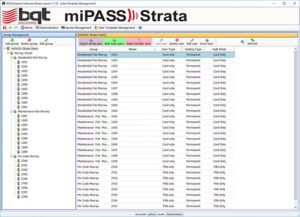 DOCUMENTATION