miPASS Face 7
Why should you consider the miPASS Face 7 Facial Recognition Solution? Our future-facing security technology could mark the end for passcodes.
In high-risk, high-security facilities, recognizing, identifying, and verifying identity is a critical security feature. If you need to protect critical assets, miPASS Face 7 is the perfect complement to your security and access control system.
What are the benefits of miPASS Face 7?
Extremely accurate infrared biometric facial recognition

Actuates instantly as user approaches the unit

Scans multiple times per second measuring over 2,000 points on the users face

No known way to fake acceptance

Real-time event capture

Dual faceplate applications

ADA application requires no contact

Perfect for high-throughput areas

Livestream video ties back to VMS

Can provide temporary access via PIN

Consistent, reliable identification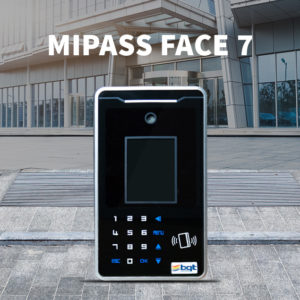 DOCUMENTATION
The Data Sheet link below is to our latest hardware, if you require earlier hardware products to support your system, please click here to be redirected to the Support and Download section of our website