YC10
The YC10 is a high quality, low voltage lock designed to automatically secure cupboards and drawers. Discretely concealed inside the cabinetry, the YC10 uses patented technology to offer a simple and effective cabinet locking solution ideal for restricting access to desired cabinets, whether it's keeping children safe in kitchens or securing documents in office drawers.
What makes the YC10 lock so unique however is its ability to operate as a complete system and pre made packs are offered to provide a total locking system for multiple cabinets. The YC10 system consists of several main items;
Locks mounted inside the cabinets with corresponding strikes secured to the doors or drawers.
A transformer to supply the power.
Jumper wires to connect the locks together.
Switches to release individual locks.
A magnet wand to operate the switches.
Each door or drawer that requires securing has its own lock, but because of a daisy chain connection between the locks only one transformer is needed to supply power. This enables the locks to be fitted throughout an entire kitchen or workspace all powered from a single power point.
As a cupboard or drawer is closed, the strike automatically engages with the lock and the cabinet is secured. Unlocking is achieved by using the supplied magnetic wand to activate a concealed switch that in turn operates the lock. Plug and play connections on the rear of each lock ensures the transformer, jumper wires and any switches will simply connect allowing the easiest possible installation and operation.
Feature Specifications
PART ORDER NO.
YC10 – 2 Lock Starter Pack (YNL502A)
YC10 – 4 Lock Pack (YNL502B)
PHYSICAL SIZE
Lock – 69L x 30W x 30H (mm)
Strike – 28L x 30W x 26H (mm)
HOLDING FORCE
620N (64Kg)
VOLTAGE AT LOCK
12VDC
CURRENT USAGE
Activating @12VDC – 150mA
CONNECTIONS ON LOCK
3 x 3way polarized Molex male
1 x 2way polarized Molex male
TRANSFORMER
12VDC, 0.5A
JUMPER WIRES
1 meter long
3way polarized Molex female on both ends
Inside the Box
Two ready-made packs are available; 2 Lock Starter Pack and The 4 Lock Pack. The 2 Lock Starter Pack must be purchased first as it contains the transformer needed to operate the lock and the magnet wand required to unlock the locks. More locks can be added to the system as desired with the addition of 4 Lock Packs. Contained in these packs is everything needed to expand the system and with up to 30 locks able to operate from a single transformer, it is very easy to grow your YC10 to meet your needs.
The 2 Lock Starter Pack
2x locks with strikes.
1x magnet wand.
1x transformer.
1x jumper wire.
2x magnetic sensors with wires.
2x installation tools.
2x face frame brackets.
Screws, wire clips
The 4 Lock Pack
4x locks with strikes.
4x jumper wires.
4x magnetic sensors with wires.
4x installation tools.
4x face frame brackets .
Screws, wire clips
Additional 4 Lock Packs are added to extend the system.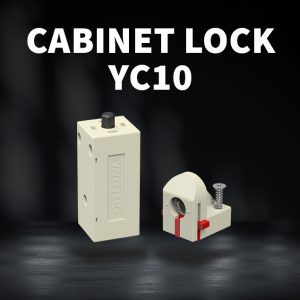 DOCUMENTATION
The Data Sheet link below is to our latest hardware, if you require earlier hardware products to support your system, please click here to be redirected to the Support and Download section of our website