YD25
The YD25 is a low voltage electronic deadbolting door lock. Commercial or residential doors can be secured and because of its streamlined dimensions the YD25 is ideal for use on thinner door styles. Hidden in door frames or surface mounted to glass doors with the aid of accessories, this lock has set the industry standard for over 15 years. The YD25 is made to the highest specifications and boasts the following features;
Streamlined design measuring only 25mm wide.
Monitoring of both Door and Bolt positions.
Voltage input of 12 – 24VDC can be supplied.
Current consumption reduction to save power.
Holding force of 10,000N with automatic deadbolting pin.
Integrated access control that offers multiple attempts to lock and unlock, anti-tailgate, anti-tamper, and selectable auto relock.
The YD25 can be connected to advanced access control systems where logging and traffic reports are important, but because of the integrated access control features, it can also operate in a simple system. By connecting the YD25 to a low voltage power supply and exit / entry devices (keypad, pushbutton, biometric reader, etc) all the basic features normally found in full access control systems are available. This makes the YD25 ideal for residential and smaller commercial applications.
Feature Specifications
PART ORDER NO.
YD25 Fail safe Lock and Short Strike (YNL101A)
YD25 Fail secure Lock and Short Strike (YNL102A)
PHYSICAL SIZE
Lock – 210L x 25W x 42H (mm)
Strike – 80L x 25W x 3H (mm)
HOLDING FORCE
10,000N (1,000Kg)
VOLTAGE AT LOCK
12 – 24VDC +/-10%
CURRENT USAGE
Holding @12VDC – 160mA, @24VDC – 95mA
Activating @12VDC – 1250mA, @24VDC – 1000mA
MONITOR SWITCHES
Bolt Position – 25VDC, 0.5A
Door Position – 100VDC, 0.5A
Accessories
The YD25 Lock is supplied with a short strike plate as standard. Additional YD25 items are available in the form of a long strike plate, housing and dress plate. These products allow the lock to be surface mounted when mortice installation isn't a preferred or viable option. Both the housing and dress plates are supplied with self-adhesive tape for instant application to glass doors and door frames.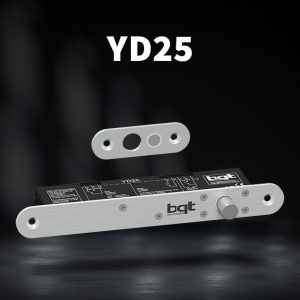 DOCUMENTATION
The Data Sheet link below is to our latest hardware, if you require earlier hardware products to support your system, please click here to be redirected to the Support and Download section of our website.