YD30 Cobalt
The YD30, also known as the Cobalt is a revolutionary low voltage motor driven door lock for 180º swing doors. It has been designed to secure double acting doors and addresses the two biggest issues in door locking; the ability to align a misaligned door and the ability to release when requested, even with excessive load on the door. The Cobalt successfully overcomes these issues and offers the user an array of other features that include;
Door misalignment of +/-8mm is automatically corrected.
Releases instantly when requested even with 100kg side load on the door.
Less than 50mA standby current.
Monitoring of both Door and Bolt positions.
Voltage input of 12 – 24VDC can be supplied.
On site conversion from Fail Safe to Fail Secure.
Stainless Steel parts are used throughout the lock.
Holding force of 10,000N with two automatic deadbolting pins.
Integrated access control that offers multiple attempts to lock and unlock, anti-tamper and auto-relock.
The Cobalt is typically used in commercial doors and controlled by access control systems. This gives the user the ability to control access in and around a facility and provide traffic reports when desired. Additionally the Cobalt can be used in a simpler system where just controlling access to a single door can be implemented with a stand-alone access system.
Feature Specifications
PART ORDER NO.
YD30 Lock and Long Strike (YNL200H)
PHYSICAL SIZE
Lock – 255L x 30W x 51H (mm)
Strike – 255L x 30W x 14H (mm)
HOLDING FORCE
10,000N (1,000Kg)
VOLTAGE AT LOCK
12 – 24VDC +/-15%
CURRENT USAGE
Holding @12VDC <50mA, @24VDC <30mA
Activating @12VDC <1800mA, @24VDC <600mA
MONITOR SWITCHES
Bolt Position – 30VDC, 0.1A
Door Position – 100VDC, 0.5A
Accessories
The YD30 is supplied with a matching long strike plate as standard. If an installation that requires surface mounting the lock is desired a housing and dress plate are available. Both the housing and dress plates are supplied with self-adhesive tape for instant application to glass doors and door frames.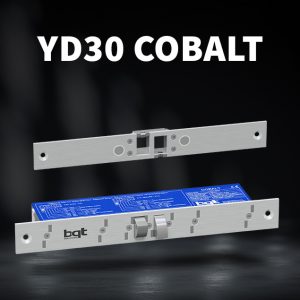 DOCUMENTATION
The Data Sheet link below is to our latest hardware, if you require earlier hardware products to support your system, please click here to be redirected to the Support and Download section of our website.