YD38L
The YD38L is a dual action, self latching, electronic deadbolting, high security door lock. Designed to eliminate door alignment problems, the YD38L first 'captures' the door with a magnetic latch, then secures the door with its deadbolting lock pin. This dual action ensures the lock aligns correctly with the strike plate allowing for consistent locking even on swing through doors and is a unique feature developed by Magna. Because of its larger size the YD38L is primarily designed for securing commercial doors, and with the magnetic latch addition this innovative lock offers a perfect solution for secure, reliable operation. Hidden in door frames or surface mounted to glass doors with the aid of accessories, the YD38L is made to the highest specifications and boasts the following features;
Dual action with the magnetic latch to capture the door and the deadbolt to secure it.
Holding force of 20,000N with automatic deadbolting pin.
Monitoring of both Door and Bolt positions.
Voltage input of 12 – 24VDC can be supplied.
Current consumption reduction to save power.
Integrated access control that offers multiple attempts to lock and unlock, anti-tailgate, anti-tamper, and auto relock.
The YD38L can be connected to advanced access control systems where logging and traffic reports are important which makes it the ideal solution for centrally controlled buildings. It provides feedback of both door and bolt positions which can be used in conjunction with a the security and access system to fully monitor and control movement.
Feature Specifications
PART ORDER NO.
YD38L Fail safe Lock and Short Strike (YNL181G)
YD38L Fail secure Lock and Short Strike (YNL182G)
PHYSICAL SIZE
203L x 37.5W x 44H (mm)
Strike – 203L x 37.5W x 19H (mm)
HOLDING FORCE
20,000N (2,000Kg)
VOLTAGE AT LOCK
12 – 24VDC +/-10%
CURRENT USAGE
Holding @12VDC – 260mA, @24VDC – 105mA
Activating @12VDC – 1400mA, @24VDC – 1100mA
MONITOR SWITCHES
Bolt Position – 25VDC, 0.5A
Door Position – 100VDC, 0.5A
Accessories
The YD38L is supplied with a matching long strike plate as standard. If an installation that requires surface mounting the lock is desired a housing and dress plate are available. Both the housing and dress plates are supplied with self-adhesive tape for instant application to glass doors and door frames.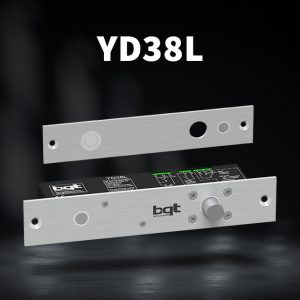 DOCUMENTATION
The Data Sheet link below is to our latest hardware, if you require earlier hardware products to support your system, please click here to be redirected to the Support and Download section of our website.