YG10
The award-winning YG10 is a weather resistant vehicle and pedestrian gate lock. Able to be installed externally it can be fitted horizontally or vertically (locking down) and is supplied with a matching strike plate. It is strong enough to prevent forced entry on all styles of gates and has integrated electronics that provide complete control over the lock and allow for connection to access control and alarm systems. The YG10 is made to the highest specifications and includes the following features;
Weather resistant – IP55 rated
Voltage input of 12 – 24VDC can be supplied.
Selectable automatic locking when the gate closes
Holding force of over 3000Kg with a deadbolting pin.
Fail safe / Fail secure user selection with a single switch.
Door position and bolt locked and unlock position monitoring.
Multiple locking / unlocking attempts to correct miss-aligned gates
Although the YG10 offers an array of features, it is simple to install and operate. There is easy access to the mounting holes in the lock and strike while wiring the lock is made easy by screw terminals and a connection guide written on the lock itself. Small switches located on the locks printed circuit board offer the simplest of ways for a user to set the locks operation as desired. Multiple user outputs offer feedback and connection to alarm systems and an on-board beeper provides instant information about the locks state.
The YG10 is supplied with batteries that can be fitted to the lock if fail safe or fail secure operation is required. With batteries fitted, a switch located on the locks printed circuit board can be used to select fail safe or fail secure. In the event of a power failure the lock will either unlock (fail safe) or lock (fail secure).
Feature Specifications
PART ORDER NO.
YG10 Lock and L Strike (YNL800A)
PHYSICAL SIZE
Lock – 152L x 88W x 78H (mm)
Strike – 75L x 75W x 70H (mm)
HOLDING FORCE
30,000N (3,000Kg)
VOLTAGE AT LOCK
12 – 24VDC +/-15%
CURRENT USAGE
Holding @12VDC – 15mA, @24VDC – 15mA
Activating @12VDC – 1000mA, @24VDC – 500mA
MONITOR SWITCHES
Bolt Position – 60VDC, 0.2A
Gate Position – 100VDC, 0.5A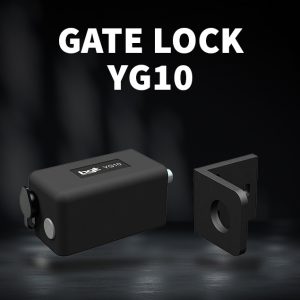 DOCUMENTATION
The Data Sheet link below is to our latest hardware, if you require earlier hardware products to support your system, please click here to be redirected to the Support and Download section of our website.