miPASS Access TMS
It's time to set some limits. miPASS makes it easy.
How much risk is involved in allowing unhindered access to every area of your facility? Chances are good that you don't want to wait until a security breach to find out, and that's smart. BQT has the solution.
BQT's biometric access control system, miPASS Access TMS software package, is based on IP connectivity and biometric security for full flexibility. BIO X/XK devices work as a reader for multiple types of credentials. It additionally works as an intelligent controller and has features that extend the system beyond that of conventional systems with 1, 2, and 3-factor authentication.
What Can You Do With miPASS Access TMS?
Define time, shifts, daily schedules, and holidays

Administer employees to comply with "On Site" and "Off-Site" procedures

Restrict access to off-duty employee

Generate a wide range of reports including attendance reports

Run multiple terminals

Have multiple levels of authentication at various doors, for various individuals.
Benefits of miPASS Access TMS?
Distributed Access Control with user, door, and access management

Advanced Access Control with device, template, and zone management

Time and Attendance Reports to help monitor attendance, and calculate work hours, holiday leave, and manage shifts

From low to high-security applications

Wide market biometrics

More security options within one system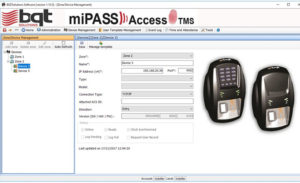 DOCUMENTATION